electric motors, motors, pumps, gears, inverters, inverter, soft starters, high voltage motors, special motors, brake motors, slip ring motors, liquid starters, medium voltage motors, direct current motors, squirrel cage motors, slip-ring motors, low voltage motors, flange-mounting motors, frequency converters, frequency changers, motor bases, pulleys, bearings

» Products » Temporiti
» Brake Model AC
| | |
| --- | --- |
| Brake Model AC | |
Characteristics of model "AC"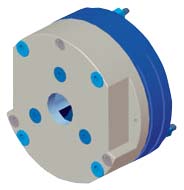 The brake model "AC" is a spring applied, power release ac brake which has been designed to stop rotational movement of machine shaft.
Very strong structure;
Very simple in assembling;
Very quiet in operation (< 70dBA according to Regulation 98/37/EEC);
The structure of the brake is made with aluminium die casting. Good heat dissipation by means of the brake structure and the motor fan;
The coil is fully encased in epoxy resin ,unless of other construction criteria;
Hand release in on request.