electric motors, motors, pumps, gears, inverters, inverter, soft starters, high voltage motors, special motors, brake motors, slip ring motors, liquid starters, medium voltage motors, direct current motors, squirrel cage motors, slip-ring motors, low voltage motors, flange-mounting motors, frequency converters, frequency changers, motor bases, pulleys, bearings

» Products » Bonfiglioli
» VF/W: Worm Gearmotors
| | |
| --- | --- |
| VF/W: Worm Gearmotors | |
VF W series

Worm gearmotors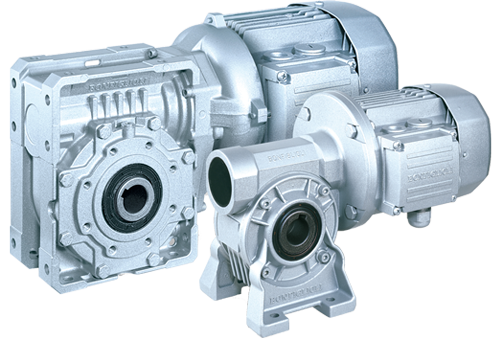 A smart design enhanced by latest materials technology and advanced manufacturing.

Wormgears of the VF and W series are milestones for the industry worldwide.
They succeeded in combining uncompromising quality with state-of-the-art technology and renown price effectiveness.
Absolute flexibility is achieved by the wide choice of mounting options, shaft configurations and motor interfaces, all offered as standard. The helical-worm and the double-worm versions, with or without the torque limiter, also enhance a highly versatile drive system.
Torque range
13 ... 7,100 Nm

Mechanical rating (n1 = 1400 min-1)
0.04 ... 75 kW

Gear ratios
7 ... 10,000

Output
Keyed hollow shaft
Plug-in solid output shaft
Torque limiter as an option
| Type | Torque Nm |
| --- | --- |
| VF 27 | 13 |
| VF30 | 24 |
| VF44 | 55 |
| VF49 | 88 |
| VF130 | 200 |
| VF150 | 1,500 |
| VF185 | 2,000 |
| VF210 | 5,000 |
| VF250 | 7,100 |
Input
IEC-normalized motor adaptors
Solid input shaft

Applicable AC motors
Integral motors and brake motors - M series / ME series
IEC-normalized motors and brake motors - BN series / BE series
Single and dual speed motors

Main brake features
DC and AC supply
Faster brake engage/disengage through electronically
Controlled AC/DC rectifier type SB, NBR, SBR (options)

Main motor options
Thermistors and thermostat sensors
Separate supply forced ventilation
Line driver and push-pull incremental encoder